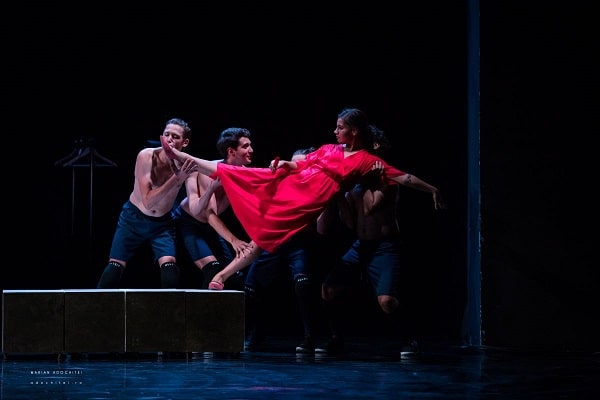 The show has been available

for viewing from Tuesday, November 9, from 19.00, until Thursday, November 11, at 19.00.
Valentin leaves Verona for Milan to complete his education "in a foreign culture", whilst his best friend, Proteus remains at home because he is passionately in love with Iulia. Valentin, who at first does not understand Proteus and does not believe in the power of love, falls madly in love with Silvia, the daughter of the Duke of Milan. His friend, also being sent to the Duke's court, forgets his loved one in an instant when he meets Valentin's beloved.
Author: William Shakespeare
Translation by Lucia Verona
Cast:
Antonio / The Duke: Liviu Manolache
Valentin: Andrei Bibire
Proteus: Florin Aioane
Turio: Andrei Cantaragiu
Speed: Cătălina Mihai
Lance: Lucian Iftime
Pantino / Innkeeper: Maria Lupu
Iulia: Ecaterina Lupu
Silvia: Cristiana Luca
Lucetta: Florina Stănculeţ
Eglamour: Grațian Prisăcariu
Outcasts: Theodor Șoptelea, Ștefan Mihai, Vlad Lință
The Demon: Alina Manţu
Puppeteer 1: Arina Cojocaru
Puppeteer 2: Tiberiu Roșu
Direction: Alexandru Mâzgăreanu
Set design: Andreea Săndulescu
Costumes: Alexandra Mâzgăreanu
Choreography: Baczó Tünde
Original music: Alexandru Suciu
Light design: Daniel Klinger
State Theatre Constanța
Duration: 2 hrs (no intermission)
Performance in Romanian with English subtitles
http://www.teatruldestatconstanta.ro/spectacol/doi-tineri-din-verona
"I meant to tell a story about two friends, one who commits a sin and delves into lust, and another who, through suffering, reaches a different kind of knowledge." – Alexandru Mâzgăreanu, (interview with Silvia Dumitrache, Observator)
"The Two Gentlemen Of Verona is first and foremost a performance about honour. And it's truly astounding how delicately Alexandru Mâzgăreanu manages to find directorial solutions (…) how fluidly one scene melts into the next, without any trace of the stitches they were sown together with. Amazing how finely tuned tension and humour, love and guilt are, thus taking Shakespeare's story o a whole new and original level whilst remaining truthful to its spirit but simultaneously managing to (re)build it with a novel approach. Each element of the performance, starting with the stage set (so richly and expressively created by Andreea Săndulescu, the carefully designed and crafted costumes (Alexandra Mâzgăreanu) up to the play of the actors – every little thing makes this performance a compelling visual but also emotional experience." – Irina Cerchia, "Doi tineri din Verona și o iubire extrem orientală", Revista Amfiteatru
Photo credit: Marian Adochiței