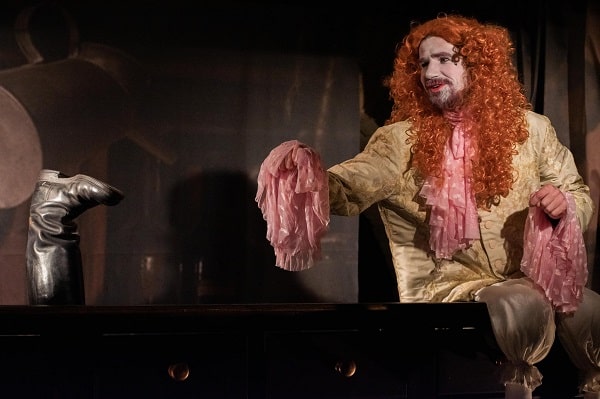 The show has been available

for viewing from Thursday, November 11, from 17.00, until Saturday, November 13, at 17.00.

To activate the Romanian or English translation, press the CC button at the bottom of the video.
What can an old lady merchant do if she hasn't had any news about her husband din years? As a rich widow, she will happily welcome an awful lot of suitors, of course! Mrs Karnyó is courted by two gentlemen at the same time: while the lady fancies Lipittlott, a passionate gambler, the cunning Tipptopp does his utmost to get rid of his rival. But the widow's infatuation is to no avail: both men are interested only in her fortune, and in order to get their hands on it they do not hesitate to deceit, to ingratiate themselves with the maid Borishka or to even commit murder.
Author: Csokonai Vitéz Mihály
Translation by Timea Laslavic
Cast:
Mr. Karnyó: Varga Bálint
Mrs. Karnyón: Kancsár Orsolya
Shamu: Éder Enikő
Borishka: Kálmán Zsófia
Lázár: Gerner Csaba
Tipptopp: Balog József
Lipittlotty: Gulyás Hermann Sándor
The Fairy: Tapasztó Ernő
Direction: Tapasztó Ernő
Set design: Szvatek Péter
Costumes: Varsányi Anna
Original music: Johann Sebastian Bach, Éder Enikő
Light design: Ioan Horga, Balog Arnold
Sound design: Balog Arnold
Assistant director: Hadas-Gábor Zsófia
"Aradi Kamaraszínház Theatre Company & Pinceszínház Company (Szeged, Hungary)
Duration: 1 h 40 min (no intermission)
Performance in Hungarian with Romanian and English subtitles
https://akamara.ro/show/az-ozvegy-karnyone-s-ket-szeleburdiak/
In the end, even Mrs Karnyó's daughter as well as Lazar the merchant contribute to entangling and then unravelling this story. Eventually, we also get to meet some other unexpected characters…
Csokonai's text is over 220 years old, yet it is littered with modern meanings and opportunities waiting to be harnessed.
"This is a deconstructed puppet show. The puppets on stage are in fact real life actors, yet the characters they evoke are profoundly human and stem from our daily reality. At the basis of their mindset is a patchwork of quotations belonging to the intellectual history of literary studies: the key of modern expression consists of the existence of feeling – and its function reflected throughout the play – , which provides it with the capacity to perceive that distance, that difference which means retelling something under new circumstances. This looking back does not mean that there is a complete detachment from the old language. The archaic style is a reflected manner of speaking, in which the speaker can mark his own space between the current and the old expression: the making the marking, the circumscribing one's own position becomes possible through this difference. Thus, the performance becomes a brilliant libretto which spreads the wings of directorial imagination." – Tapasztó Ernő, regizor