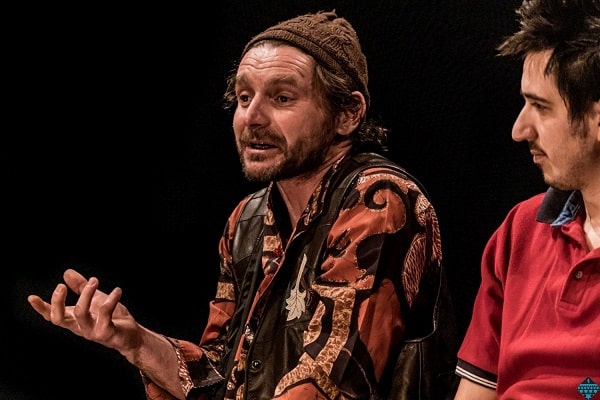 The show has been available

for viewing from Tuesday, November 9, from 22.00, until Thursday, November 11, at 22.00.
When financial burdens overwhelm two brothers, Frank and Joe, a substantial amount of money seems to be the perfect solution. In the short term this ideas seems to work, but family trouble, poor education, a chaotic existence and a mother who dies all too soon are not things that can have simple solutions. One needs something more than that. And the help Ray provides, a young, womanizing, alcoholic and immoral teacher, is very welcome. But he, too, is fighting his own demons. Can friendship be the answer to this whole mess? And does real friendship actually exist?
Author: Conor McPherson
Cast:
Joe: Cristian Iorga
Ray: Theo Marton
Frank: Marius Turdeanu
Translation, direction and set design: Cristi Juncu
Târgu-Mureș National Threatre –Liviu Rebreanu theatre company
Duration: 1 h 40 min
Not suitable under 16 years of age
"In the slang of our profession, when you try to negotiate with a theatre manager a reasonable budget for the performance you are about to stage, you generally say 'well it cannot be done with nothing but three chairs'. I had no intention whatsoever to validate this phrase, yet it so happened – with three chairs. I also never intended to make the three actors sit the whole time, yet it somehow happened that it wasn't necessary for them to get up at all. But I'm happy it all turned out this way. Because I wanted to disprove a fear I had, that – in a world increasingly saturated by technology and more and more impatient – this kind of performance based on just the actors and the text, a kind of performance I adore, still does its magic. I cannot say that this fear of mine has completely vanished after staging this, but I can say it has diminished substantially. At least for another decade this kind of performance will still 'd the trick'. More or less how much I have left before retiring." –  Cristi Juncu
McPherson's text provides an unsettling perspective of human relationships and shows us the deceiving meanders of trusting others, as well as the murky waters of growing up in a society where innocence and honesty are definitely not among the core values.
"The online version of this performance is among the most enjoyable I have seen during the pandemic. The stage set works to its advantage hence you have the feeling that you are face to with the actors and not facing a screen. Actors and viewers, we are all sharing the same time, just from different places. The stage becomes alive in real time, only the chairs of the hall have been scattered at the viewers' homes. A delightful performance, which I highly recommend!" – Oltița Cîntec, Suplimentul de Cultură
Foto: Cristina Gânj (Bristena)