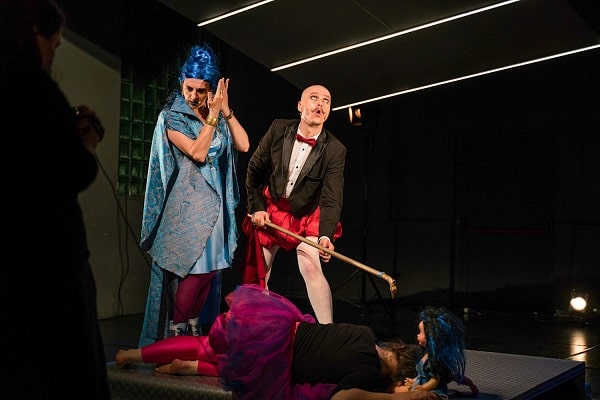 The show has been available

for viewing from Saturday 13 November, from 21.00, until Monday, 15 November, at 21.00. To activate the English translation, press the CC button at the bottom of the video.
We find ourselves in a totalitarian world, in the midst of a covered-up pandemic. At the Health Parade, the daughter of the Health Secretary says "The Emperor is coughing!" Yet somehow the crowd doesn't believe her, so the girl and her parents are locked away in a secret location. Her parents search for a solution to save themselves – both in nature and in culture -, without knowing that the girl has a secret room hidden inside her "doll".
Author: Maria Manolescu Borșa
Translation in English by Corina Găgeanu
Cast: Mihaela Rădescu, Viorel Cojanu, Silvana Negruțiu, Maria Cioclov
Direction: Leta Popescu
Set design and costumes: Gabi Albu
Make-up: Karina Dumitru
Original musi: Andrei Raicu
Light design: Radu Apostol
Sound design: Andrei Raicu
Editing: Andreea Lăcătuș
Cameras: Andreea Lăcătuș, Leta Popescu, Radu Apostol
Replika Centre for Educational Theatre, Bucharest
Duration: 1 h
Performance in Romanian with English subtitles
"For me, the time I spent on Trapped has been one loaded with questions about theatre as art, about its methods and goals. My answer to this is a criticizing comedy, a performance made into a movie, a movie made intro a recorded performance. By crossing the two, I feel I am taking my own research further. Alongside my team, I am telling you a story about us, who are stuck on so many levels." –  Leta Popescu, director
"The performance Leta Popescu staged at Replika in Bucharest presents a dystopia disguised as a tragicomic story, which turns out to have an increasing number of similarities with our reality. Maria Manolescu Borșa's play has a striking albeit enchanting effect through the concealed seriousness and, ironically, through the playful way in which it conveys serious, even alarming messages, that have become a part of our (lately very) abnormal everyday life.
This staging is in complete agreement with the strange times we are living: although it takes place in a theatre hall, the audience is absent, and the performance is shot with two cameras. The current recording is completed, alternatively, with previous recordings introduced as a visual counterpoint." – Andrei Vornicu, "Drumul spre neutralitarism începe cu un tușit", Vatra, 20 February 2021