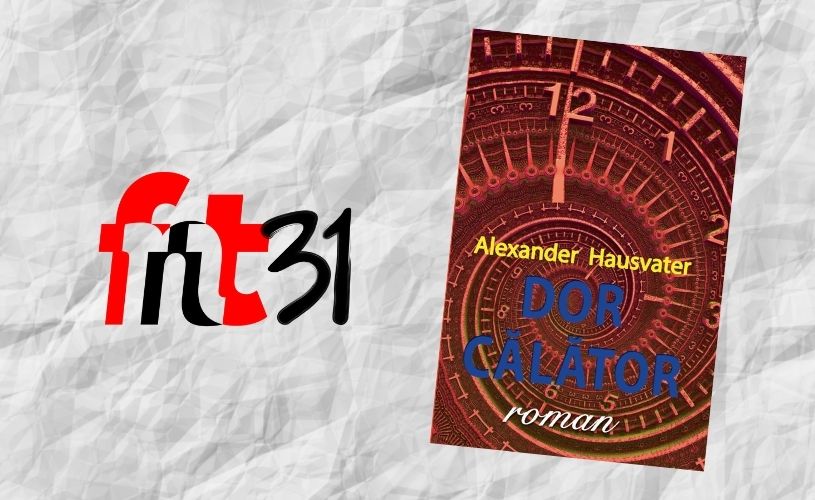 by

Alexander Hausvater
Integral

Publishing House

, 2021
Pr

ice

: 29,99 ron
The book can be purchased here:
Online bookshops

: eintegral.ro (

worldwide delivery

), elefant.ro, emag.ro, librarie.net, libris.ro, librariadelfin.ro
Cărturești, Librarium, CLB (Sadoveanu

and

Papirus), Libris, Sedcom, Eminescu

bookshops
Travelling Nostalgia it is a non-compliant novel (but also liberated from the clichés of former prose) of the beautiful and difficult relationship between father and son. In Alexander Hausvater's conception, writing is not only meant to relax, but also to induce catharsis, to unleash the reader and, last but not least, to provide him with at least some questions, if not meanings. Thus, no matter how complicated, the father-son relationship is, in fact, one of the axes of the world (loaded, in Judaism, with explicit meanings); love as an expression of freedom always carries the scars of history within it, and the tragedies of humanity – like the Holocaust – are announced and "prefaced" by the accumulations of individual suffering.
Răzvan Voncu – Realitatea evreiască nr. 582-583, aprilie 2021, București
The action of the novel is dynamic, unpredictable. It is pigmented by moments of terrible warmth and tenderness, but which are inexplicable. Neither the son nor the father can confess to each other the deep affection that binds them, the son's admiration for his father and his despair seeing him devastated by the disease, the pain, kept away form the eyes of the boy by his father, worrying he would leave his son alone. The son "kidnaps" his father from the hospital of the severe Dr. Meir and makes him live a few more episodes of normal existence. The boy keeps a diary of these days, sending his notes as publishable reports to a daily newspaper. We can't know for sure if everything happenning after break out of the hospital is real, or just imagined by one or the other of the two. The author controls the "cuts" very well in a way that would really favor a screen adaptation of the book. Alexander Hausvater has good command of writing, communicates precisely or deliberately ambiguously, as needed, and has passages of remarkable lyrical intensity in the otherwise tense course of the events. Traveling Nostalgia is an intense novel demanding the attention of and bringing precious satisfaction to the reader.
Horia Gârbea, Nostalgia and Adventure, România literară nr. 16/2021, Bucharest
Birth and death are confused in a full symbiosis, made possible by memory. Hausvater makes memory a very strong line of his novel. On the verge of death, the father faces a dissolution of memory, yet another type of memory, a deeply affective one, will replace the shadows that stretch over the past. Unforgetting is stronger than death, this is a secondary theme of this captivating novel. A master of creating atmosphere, the author leads us through the most diverse moods, from depression, to vitalistic tumult, from regrets, to the celebration of the moment, from unleashed passions, to the precipices within a second of contemplation. The writing is delightfully simple. The words, loaded with mysterious energies, come out of the book and sneak into the reader's field of emotions. The longing becomes nostalgia for something indefinite, for a personal father who existed or could have existed. Hausvater's novel opens to the universal, to a horizon we all see looming in unnamed distances…
Călin Ciobotari, The First Night of My Death…, 7Iași, 7.05.2021, Iași