7 November | 19:00 – I.L. Caragiale National Theatre Bucharest, on Caramitru Hall (Big Hall)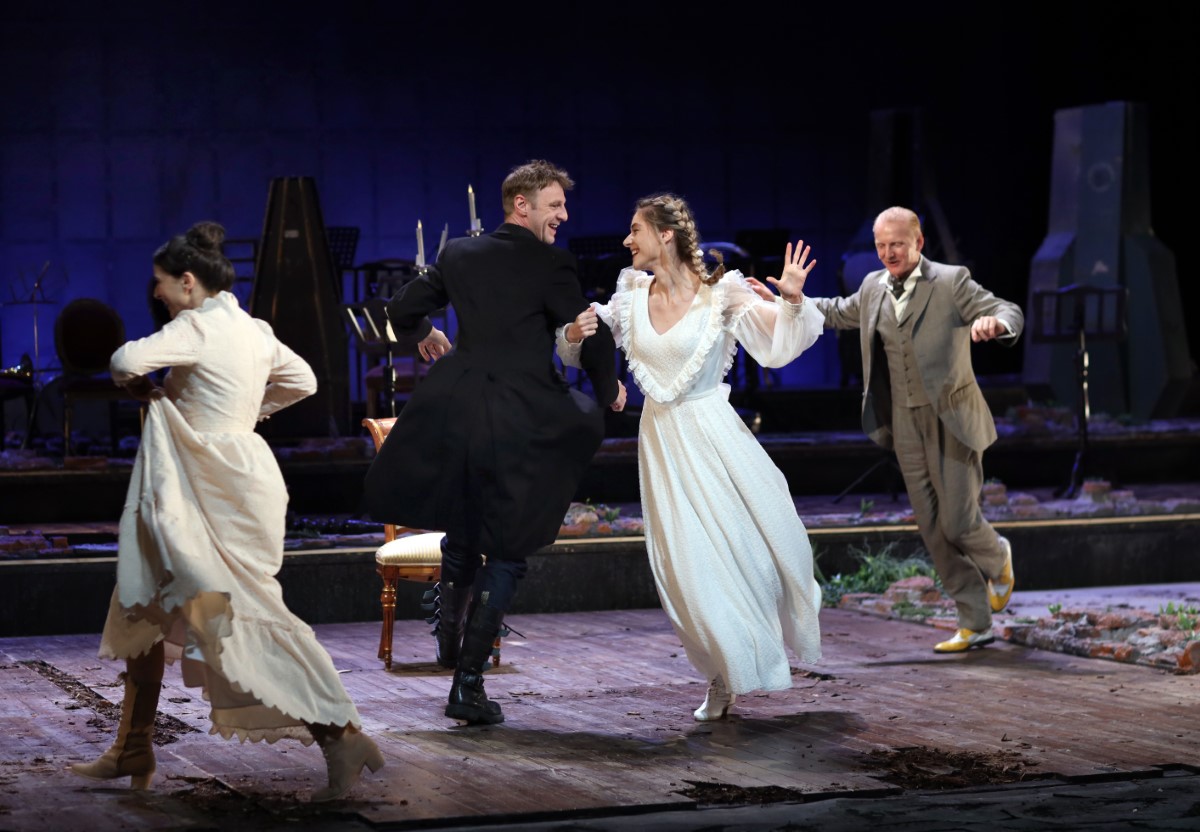 Fathers and Sons by Brian Friel (adapted for stage after Turgenev's novel), in Vlad Massaci's staging at the National Theater, reflects exactly what the British philosopher Isaiah Berlin said: "… a valuable document for understanding both Russia's past and our present."
By: Brian Friel
Adapted for stage after a novel by Turgenev
Translated by: Vlad Massaci
Cast:
(in the order indicatred by the author):
Evgheni Vasilici Bazarov, a student: Andrei Huțuleac
Arcadi Nicolaevici Kirsanov, a student: Alexandru Potocean
Nikolai Petrovici Kirsanov, Arcady's father landlord: Mihai Călin
Pavel Petrovici Kirsanov, Arcady's uncle, a retired officer: Richard Bovnoczki
Vasili Ivanici Bazarov, Evgheny's father, a retired army doctor: Vitalie Bichir / Tomi Cristin
Arina Vlasievna Bazarov, Evgheny's mother: Diana Dumbravă
Fenicika Fedosia Nicolaevna, Nicolai's lover: Cosmina Olariu
Ana Sergheievna Odintzov, landlady: Crina Semciuc
Caterina Sergheievna Odintzov, Ana's sister: Măriuca Bosnea
Princess Olga: Emilia Popescu
Duniasha, servant at the Kirsanovi: Fulvia Folosea
Piotr, servant at the Kirsanovi: Emilian Mârnea
Procofici, maid at the Kirsanovi; Timofeici, servant at the Bazarovi: Mihai Verbițchi
Fedca, servant's aid at the Bazarovi: Andrei Tomi
Directed by: Vlad Massaci
Set: Adrian Damian
Costumes: Luiza Enescu
Stage movement: Florin Fieroiu
Vocal coaching: Monica Ciută
Light design: Cristian Șimon
Video design: Constantin Șimon
Assistant director: Simina Siminie
Set design assistants: Șteff Chelaru, Ioana Groza
Producer: I.L. Caragiale National Theatre Bucharest
Duration: 3h 15 min (with intermission)
General audience
Performance in Romanian with English subtitles
You are therefore invited to a show of striking relevance, in which you will find the atmosphere of Russian theater with its characters trapped in a maze of endless emotions and discussions, as well as the English humor and fine irony arising the Irish playwright's pen. You will be seduced by the refined and nuanced acting of the actors, carefully and sensitively guided by the director throughout an action that flows naturally in its dramatic moments. The world of "parents", "out of tune" with the new ideology of the nihilistic youth, sinking into their own inability to change, finds its scenic transposition with deep meanings under the signature of artists Adrian Damian (sets) and Luiza Enescu (costumes). In fact, through his performance, Vlad Massaci reveals how Turgenev / Friel's entire human comedy becomes the drama of an entire world forced to endure the catastrophic aftermath of the ideologies that have marked the history of civilization and humanity.
Photo credit: Florin Ghioca