22 October| 18:00 and 21:00 – Principal Theatre, Rapsodia Hall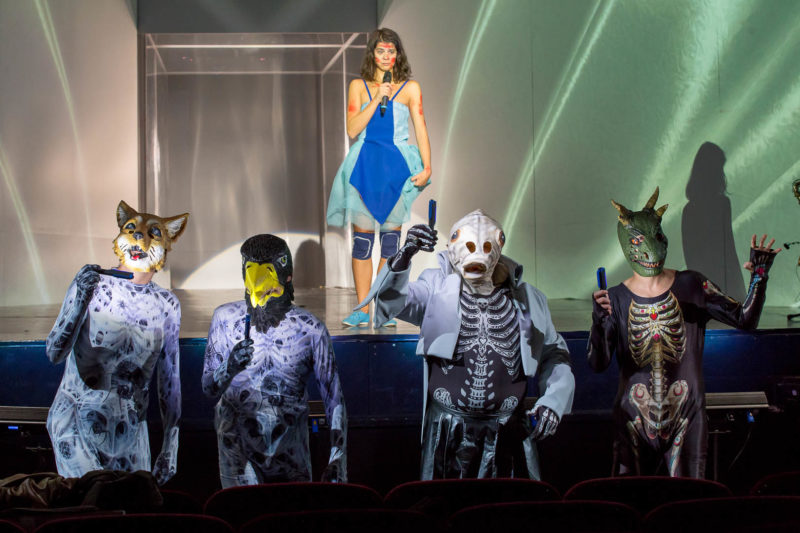 A co-production of "Tamási Áron" Theatre Sfântu-Gheorghe and sZempöl Offchestra
For over 150 years, Alice's name has been associated to the wonderland imagined by British writer Lewis Carroll.
Cast:
Beczásy Áron
Benedek Ágnes
D. Albu Annamária
Derzsi Dezső
Erdei Gábor
Gajzágó Zsuzsa
Kolcsár József
Korodi Janka
Kovács Kati
Mátray László
Nagy Alfréd
Pál Ferenczi Gyöngyi
Pálffy Tibor
P. Magyarosi Imola
Rácz Endre
Szakács László
Szalma Hajnalka
Vass Zsuzsanna
sZempöl Offchestra:
Bocsárdi Magor
Ferencz Áron
Gáspár Álmos
Kónya-Ütő Bence
Vitályos Lehel
Directed by: Bocsárdi Lászlóâ
Traducerea: Mihaela Stanca
Sets: Bartha József
Costumes: Kiss Zsuzsanna
Choreography: Bezsán Noémi
Visual effects: Rancz András
Sound Design: Sound Studio
Sound amplification: Józsi Szabolcs
Light Design: Horváth Csaba
Assistant Set Designer: : Czirják Beatrix
Prompter: Gazda Szende
Stage Manager: V. Bartha Edit
Length: 1 h 45 min (no intermission)
A co-production of "Tamási Áron" Theatre Sfântu-Gheorghe and sZempöl Offchestra
Performance in Hungarian with English and Romanian surtitles
A country whose strange and mischievous inhabitants won't stop invading the imagination of readers from all over the world, among them artists, be they film and theatre directors, musicians or fashion designers. Since its premiere in October 2017, we can say that Alice has been living here, in the imagination of
Tamási Áron Company and of the spectators who will accept director Bocsárdi László's invitation to dream and experiment awakening.
Alice tells the story of iconic transgressions. You may read it as the unusual, traumatic bodily experience of a teenager, as an account of a psychedelic adventure, or as a panicky awakening of the self, as it recognises the invisible dimensions of the world. Nonetheless, it is a story where someone will be initiated into an unknown world. The problems raised by Lewis Carroll's fantastic novels serve as a source of inspiration for the performance.