24 and 26 October| 20:00 –  Odeon Theatre, Majestic Hall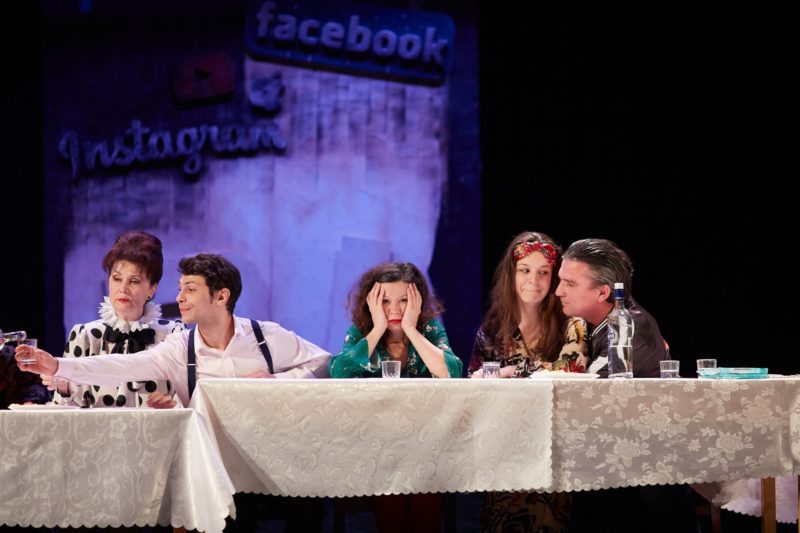 Teenage is the time we start to seek our place and aim in this world. More often than not the search for one's own identity means confronting essential, sometimes hurtful experiences.
Cast:
Mashka: Aida Avieriţei
Kostia, Vladik, Mishka, a boy: Emanuel Becheru
Starman: Dragoş Ionescu
Katia: Cristina Mihăilescu
Dasha: Cătălina Bălălău
Sashka, Anya : Corina Grigoraş
The Mother: Sabina Brânduşe
Aunt Sveta : Cătălina Ieşanu
The Grandmother: Loredana Grigoriu
Uncle Fedea, the Grandfather: Tudor Tăbăcaru
Aunt Olga : Gina Gulai
Uncle Luca: Dan Grigoraş
Petea, a boy: Florin Hriţcu
Translated by: Raluca Rădulescu
Directed by: Alexandru Mâzgăreanu
Set Design: Romulus Boicu
Costumes: Alexandra Mâzgăreanu
Stunts: Marian Peter
Original Score : Alexandru Suciu
Length: 2 h (no intermission)
Youth Theatre, Piatra Neamț
English surtitles
Suitable for ages 16 and above
Alexandru Mâzgăreanu proposes a performance full of energy and sensitivity regarding anxieties of this age. Mashka, the main character, is a teenager confronting social and family pressure by escaping, from time to time, in an imaginary world populated with superheroes. Like any teenager, Mashka feels the need to assert herself, to define her own identity, but at the same time she yearns for acceptance in the group and copies others. She wants to be the best, to have extraordinary achievements, to be memorable, so as to be cherished by her friends and her family.
Mom, I've lost my Arm! – a performance regarding teenage challenges and ageless self-respect.