20 October | 20:00 – I.L.Caragiale National Theatre, Pictura Hall
21 October | 22:00 – I.L.Caragiale National Theatre, Pictura Hall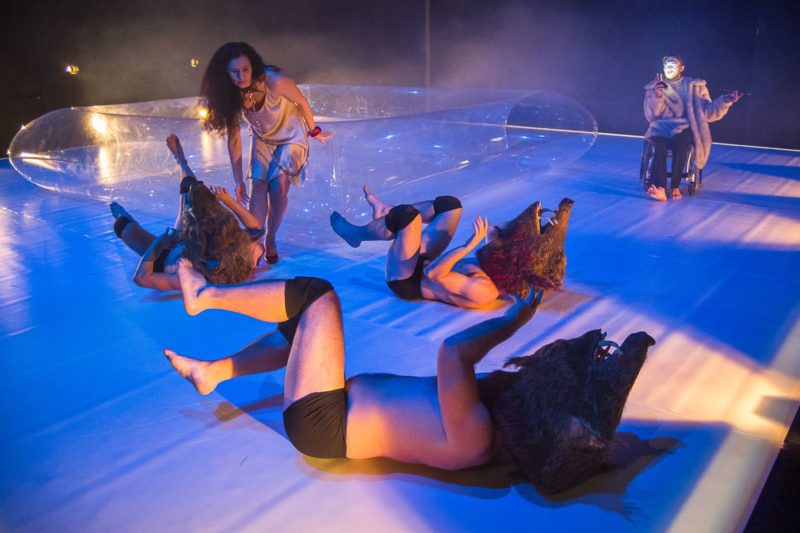 The production explores a feast, a gathering through which the unspeakable reveals itself, a constant passing between madness, an imaginary world and the harsh reality.
Cast:
Interpreters: Deák Zoltán, Gáll Katalin, Nagy Eszter, Orbán Levente, Polgár Emília, Szekrényes László, Veres Nagy Attila
Directed by: Frenák Pál
Choreography: Frenák Pál
Assistant Choreographers: Halász Gábor, Maurer Milán, Vasas Erika
Original Score : Gryllus Ábris
Light Design: Marton János
Length: 50 min (no intermission)
M Studio, Sfântu Gheorghe and Compagnie Pál Frenák
Dance performance
Suitable for ages 16 and above
The choreography, which is a constant shifting energy between linear and spiral, is based on Pál Frenák's unique dance aesthetics combined with body language. The seemingly ordinary aspects of everyday life collide in a constructive and yet deconstructive way – such encounters lead us from chaos to a livable verity.
The project was co-financed by the Administration of the National Cultural Fund, the Bethlen Gábor Foundation and the National Cultural Fund, Hungary.