22 October | 22:00 – ARCUB – Hanul Gabroveni, Sala Mare (Big Hall)
28 October | 21:30 – ARCUB – Hanul Gabroveni, Sala Mare (Big Hall)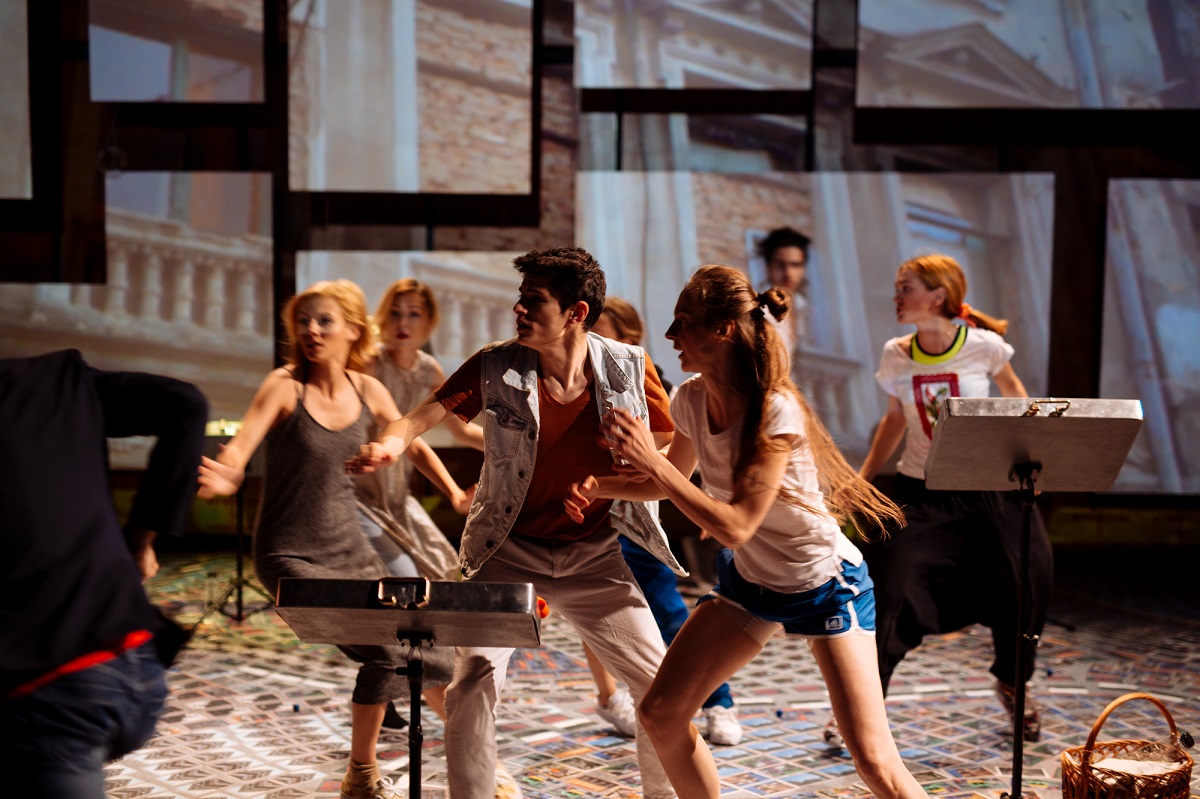 Bucharest represents us all. It is just the way we care for it, the way we build it and we allow it to develop. It is the city where we study, we work, and we live. The place that we love or hate, which drives us crazy or makes us burst out laughing.
The Capital full of potholes and heavy traffic, but also scattered with magical places. Its spirit, full of striking contrasts, overflowing aggressive energy, corrosive humour, and at the same time candour and surprising beauty, that is the starting point of this performance. A syncretic show which combines dance, music, fine art and video, theatre and performance in an original mix, a faithful and democratic mirror of the meeting of various artists. A theatre installation, an offensive, sequential, frontal, politically engaged show.
Bucharest. Human Installation is a mosaic mirror of all those who contributed to it. It shows Bucharest as seen by a particular group of artists, without an intention of being politically correct. It catches the image of a city which you can recognize or call into question, but which will surely touch us.
Coordinated by Radu-Alexandru Nica  after a concept by Florin Fieroiu
Dramaturgy: Ada Lupu, Florin Fieroiu, Radu-Alexandru Nica
Cast:
Nicholas Cațianis
Ada Galeș
Dumitru Georgescu
Flavia Giurgiu
Denis Hanganu
Ilinca Manolache
Ioana Marchidan
Dana Marineci
Ciprian Nicula
Performance devised by: Nicholas Cațianis, Irina Crăiță-Mândră, Andu Dumitrescu, Florin Fieroiu, Ada Galeș, Dumitru Georgescu, Flavia Giurgiu, Vlaicu Golcea, Denis Hanganu, Ada Lupu, Ilinca Manolache, Ioana Marchidan, Dana Marineci, Radu-Alexandru Nica, Ciprian Nicula
Concept and making of video installation / object / deformance intro: Andu Dumitrescu
Scenic Movement: Florin Fieroiu
Original Score and Sound Design: Vlaicu Golcea
Assistant Director: Irina Crăiță-Mândră
Duration: 1 h 15 min (no intermission)
ARCUB – The Cultural Centre of Bucharest Municipality