23 Oct | 19.00 – Odeon Theatre, Foaier Hall (Grand Exhibition Opening)
20 – 30 Oct | Odeon Theatre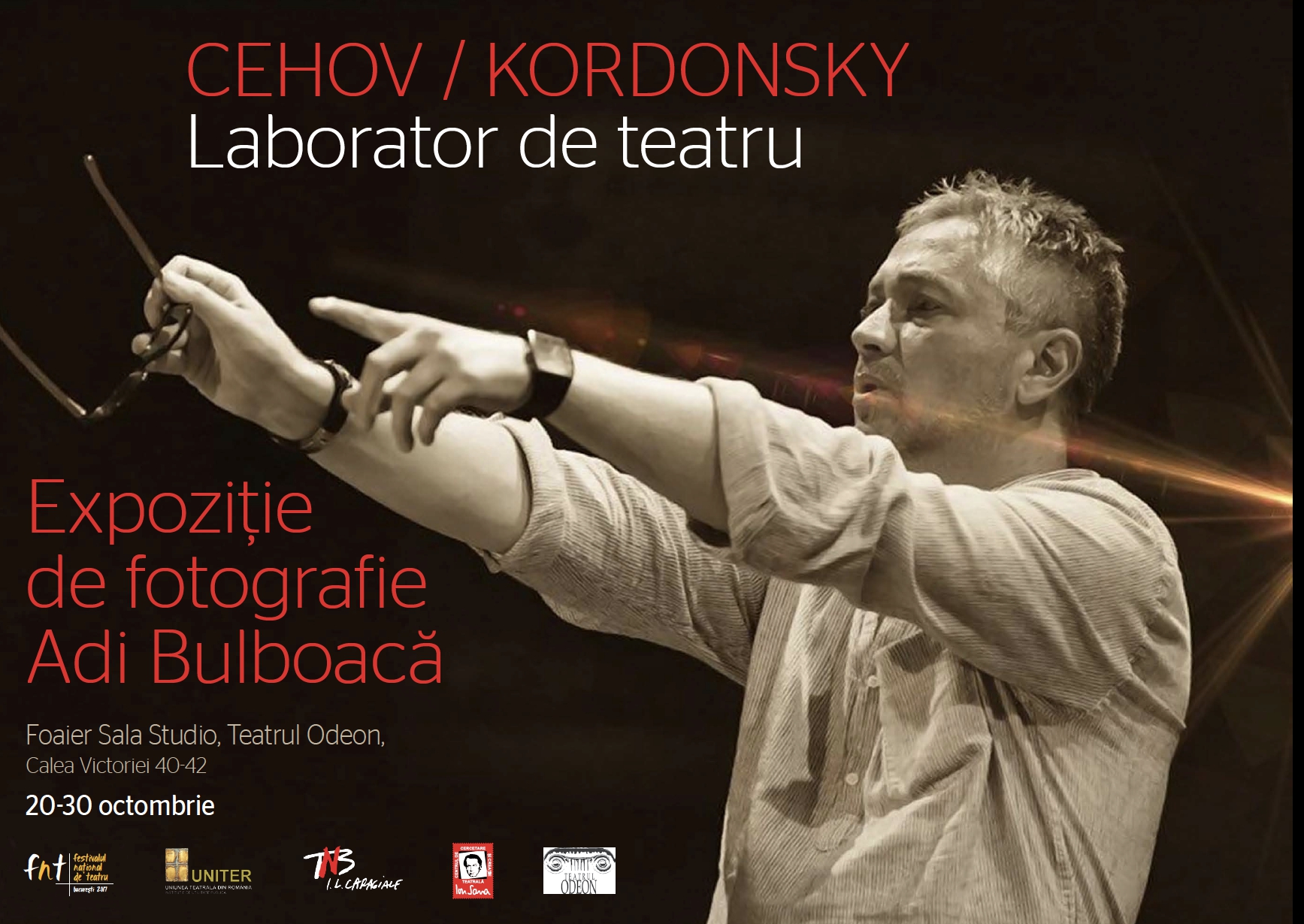 From 22 to 28 July, the National Theatre of Bucharest hosted the first event of the 27th edition of the National Theatre Festival, an intensive creation laboratory called Chekhov / Kordonsky, which brought together the famous theatre director and 27 young Romanian actors.
During seven days, director, actor and teacher Yuri Kordonsky and the 27 actors made up an intimate creative universe that nobody could break into. For a whole week, they did "filigree work", says Rares Forin Stoica, one of the participants. Behind the closed doors, Yuri Kordonsky opened "a door to life" to the actors, as Andrei Radu described his experience of working on the plays of Anton Chekhov. Following the event, you can admire an exhibition on the themes of the creative laboratory, signed by photographer Adi Bulboacă, set up during the National Theatre Festival, from 20 to 30 October.
"Marina Constantinescu convinced me to come here, through a skillful approach and understanding, love, tenderness and spirit of sacrifice. One of the demands that I made was keeping an intimate work atmosphere, in a closed environment". (Yuri Kordonsky)
"I truly believe in the theatre of Yuri Kordonsky. I am grateful to him for having accepted to suspend time and all things urgent for us all, and come deliver this prologue right before the start of the festival. I am convinced that the 27 actors who took part in the creative laboratory will have a strong word to say in the Romanian theatre. Because up to the very end theatre is the joy of being together." (Marina Constantinescu)
"I did not have the chance of witnessing the meeting of Yuri Kordonsky, the 27 young actors and Chekhov, but I enjoyed imagining what could grow out of that meeting. Few days after the lab, I had the opportunity to welcome the actors in my photo studio. I proposed them a game: to play Chekhov, I challenged them to invent meetings of characters from various plays, to imagine the relationships, the explosions or the silence that could arise." (Adi Bulboacă)
The 27 actors having taken part in the Chekhov / Kordonsky. Theatre Laboratory organised by the National Theatre Festival with the "Ion Sava" Creation and Research Centre, and at the same time the protagonists of the exhibition signed by Adi Bulboacă are: Ada Galeș, Alexandra Sălceanu, Alina Petrică, Ana Bianca Popescu, Andrei Radu, Aylin Cadîr, Ciprian Nicula, Dan Rădulescu, Denisa Nicolae, Emilia Bebu, Emilian Oprea, Florentina Țilea, Florin Călbăjos, Gabriel Răuță, George Albert Costea, Ioana Predescu, Ionuț Toader, Lari Giorgescu, Liviu Romanescu, Maria Bacci Pasello, Paula Niculiță, Radu Iacoban, Rareș Florin Stoica, Silvana Negruțiu, Silviu Debu, Ștefan Lupu, Vlad Logigan.