25 October| 21:00 – Bulandra Theatre, "Liviu Ciulei" Hall
26 October| 18:00 – Bulandra Theatre, "Liviu Ciulei" Hall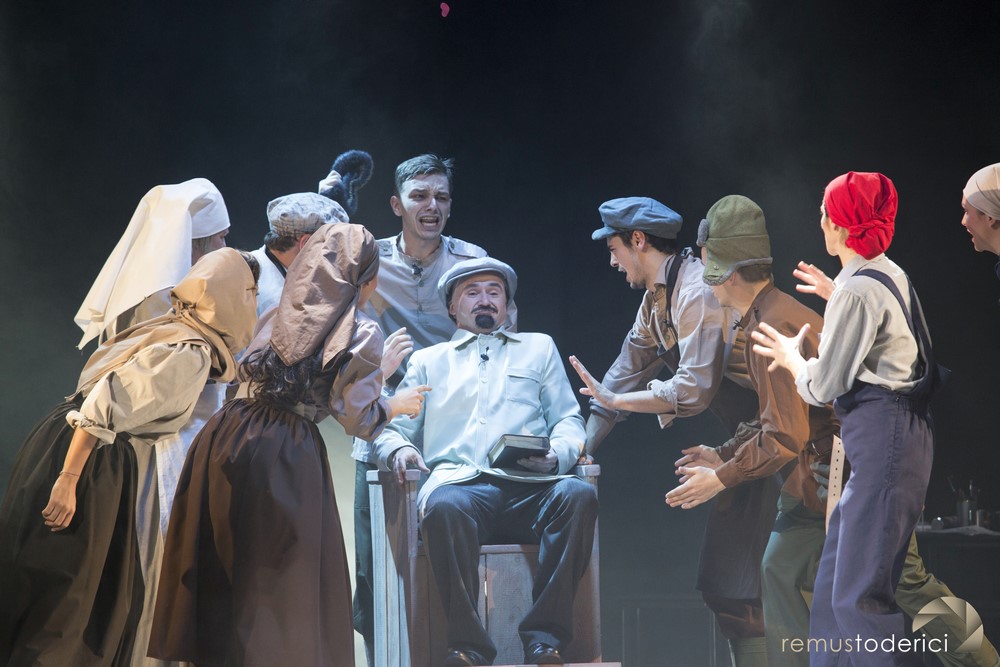 The play Dada Cabaret captures the disturbing atmosphere of the 20th century, the period in which the artistic movement Dada was born as a reaction to the first world conflagration, deepening in particular the political aspect of Dadaism: "I was encouraged to write this piece, being interested more in the political Dadaism than in the literary-artistic one.
My theatre play is at the same time an investigation into a mysterious concept and an attempt to prove that Dadaism has prolonged into the communist adventure. The fact that Lenin lived in Zürich, right in the same street where the Voltaire Cabaret was, precisely in the weeks when the Dada movement was born, is a huge irony of history. […] Yes, I think Lenin was unintentionally a Dadaist. From the Cabaret Voltaire, where he seems to have been seen at least once, he might have taken an irreversible virus, which he then handed over to the whole family of revolutionaries, so that eventually the ideas and plans of these people backfired (and a hundred million deaths as the human price of their experience). Let us not get sad, though. My play is a comedy about a tragic century. Dadaist laughter seems to me to be an instrument of understanding how history advances (one step forward, and two steps back) as well as the manner in which man approaches and moves away from what he really should be." (Matei Vișniec)
The production proposes an absolutely spectacular concept in which the world of cabaret, war and revolution blends dramatically into Dada rhythms and rhymes. The war and terror aroused in that era by the changes of paradigm (both social and cultural) are captured in a tragic-comic and dynamic key.
Adapted by: Anca Bradu
Cast:
Tristan Tzara: Richard Balint
Mrs. Dada: Ioana Dragoș Gajdo
Mr. Dada: Șerban Borda
Emmy Hennings: Angela Tanko
Sophie Tauber-Arp: Gabriela Codrea
Hugo Ball: Mirela Lupu
Marcel Iancu: Sebastian Lupu
Jean Arp: Sorin Ionescu
Lenin: Pavel Sîrghi
Stalin: George Voinese
Ludmila Spiru, Ravina Solomon: Georgia Căprărin
TV Announcer: Alina Leonte
Assistant Lenin, Axinte Rotaru, Lucian Micula: Emil Sauciuc
The Photographer: Alin Stanciu
The Photographer's Sweetheart: Anda Tămășanu
Alan Seeger: George Dometi
German soldier: Andrei Sabău
French soldier: Eugen Neag
Apostu Vasile: Ciprian Ciuciu
Black cat – Zerbinetta: Denisa Vlad
Cabaret girls: Anda Tămăşanu, Georgia Căprărin, Alina Leonte, Denisa Vlad
Group of elderly people: Şerban Borda, Ioana Dragoş Gajdo, Angela Tanko, Gabriela Codrea, Mirela Lupu, Sebastian Lupu, Sorin Ionescu, Anda Tămăşanu, Georgia Căprărin, Alina Leonte, Denisa Vlad, Emil Sauciuc, Alin Stanciu, George Dometi, Andrei Sabău
Soldiers: Alin Stanciu, George Dometi, Andrei Sabău, Ciprian Ciuciu, Eugen Neag
Revolutionaries: Anda Tămăşanu, Georgia Căprărin, Alina Leonte, Denisa Vlad, Emil Sauciuc, Alin Stanciu, George Dometi, Andrei Sabău, Eugen Neag
Orchestra: Zsolt Lukács (Saxophone, Clarinet), Albert Károly Szávuly (Trombone), Varady Henrietta (Piano), Alex Seretoc (Percussion), Andrada Ciupeiu (Violin), Lorant Veres (Double bass)
Directed by: Anca Bradu
Sets: Doru Păcurar
Costumes: Andra Bădulescu Vișniec
Choreography: Mălina Andrei
Original Score: Ovidiu Iloc
Light Design: Lucian Moga
Duration: 1 h 50 min  (no intermisssion)
"Regina Maria" Theatre, Oradea