29 Oct| 16:00 – Elvire Popesco Cinema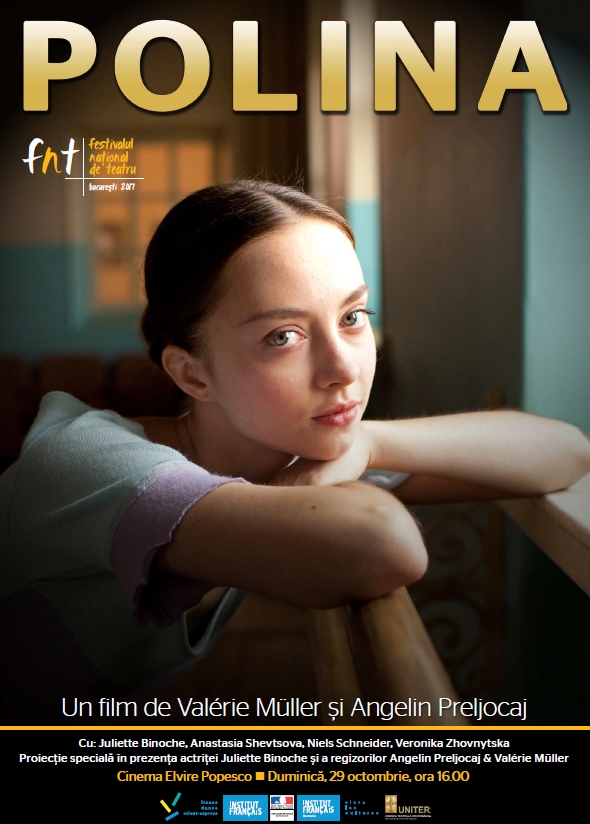 Moscow, early 90s. Polina, aged 8, is a gifted ballerina. From a modest background she joins the prestigious school of Professor Bojinsky, who trains dancers for the Bolshoi. He immediately grasps her tremendous potential and makes her work so hard that at only 18 her dream finally comes true and she enters the prestigious theatre. This is when she meets Adrien, a charming French dancer. He will help her to discover not only love but, more importantly, a new form of dance, more contemporary and expressive, a kind of dance that will change her life forever.
"What interested me was the path she took. How the fragilities and weaknesses of a person can eventually be a springboard for creativity and success. From the time I began to dance, I have seen tons of dancers. Some very talented, others less. And it turns out that it's not always the most talented who have careers. Some are astounding and then suddenly burn out – that happens to both dancers and choreographers. It's a kind of longevity, obstinacy and endurance that gives certain artists their power. When the graphic novel came out, I found it very realistic in that respect." (Angelin Preljocaj about Polina) "Beyond the magnificent graphic art, what I thought was fabulous in Bastien Vivès' graphic novel was the way she completely avoided the clichés you usually see in stories about classical dancers, where they are always anorexic victims of rivalry and competition. For once, we are in a world of young people who are working and struggling with moral and physical difficulties. We see them living and partying. It's very real. (Valérie Müller about the adaptation of the graphic novel which became the script of feature film Polina). The screening of feature film Polina during the 27th edition of the National Theatre Festival will enjoy the presence of directors Valérie Müller and Angelin Preljocaj, as well as actress Juliette Binoche.
Running Time: 108′
Directed by: Valérie Müller, Angelin Preljocaj
Screenplay: Valérie Müller, Angelin Preljocaj
Cast: Juliette Binoche
Anastasia Shevtsova
Niels Schneider
Veronika Zhovnytska
Producer: Didier Creste, Gaëlle Bayssière
Production: Everybody On Deck, France 2 Cinéma, TF1 Films Production France, 2016