22 October | 18:00
"I. L. Caragiale" National Theatre, Sala Mare (Big Hall)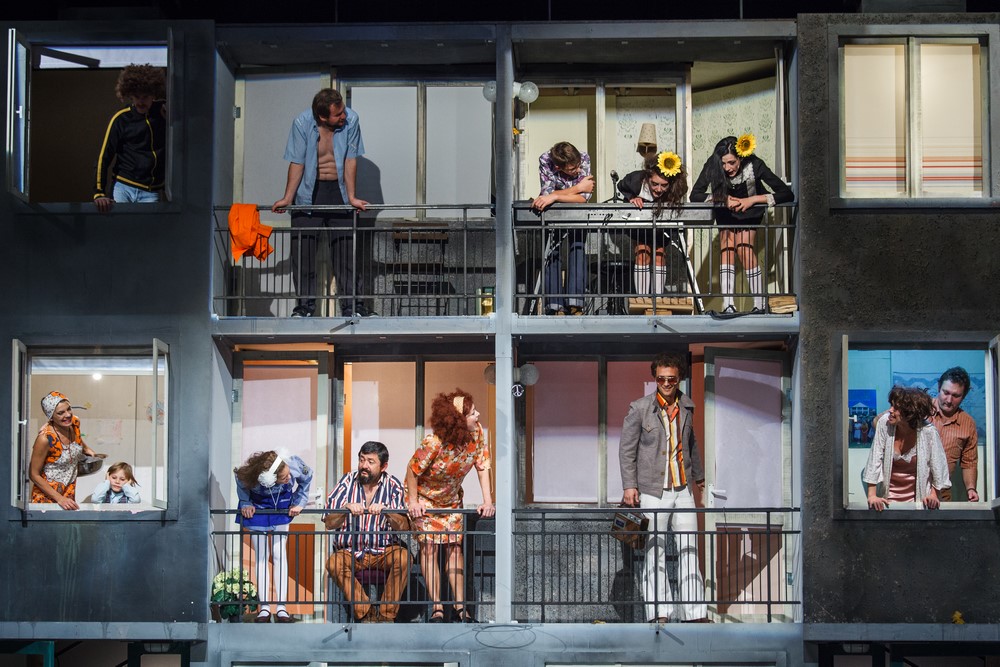 Today, we call everything 'retro' when we talk about what people in the 70s used to live in their everyday lives, in their blocks of flats, the emblematic but still functional achievement of the passed socialist epoch.
A block of flats – with its stairways, apartments, thin walls, the neighbours, kids with their keys bound on their neck – is a kind of anthill of many individuals with their interlocking fates. Of course, these crowded lives do not welter without conflicts…
Radu Afrim takes us (back) into the Romania of the 1970s, when people lived their whole life in the allocated apartments, when a cassette player made a splash, and the words 'ecological' and 'depression' were not  part of the daily vocabulary.
Translated by: Sándor László
Cast:
Madam Paraschiva: Csaba László
Robika: Örs Takács
Aurora: Erzsébet B. Fülöp
Madam Mureşan:  Ágnes Lőrincz
Marta: Boglárka Katalin Simon
Laura:  Noémi Kádár
Rózsika:  Ramóna Gecse
Zágoni Jóska:  Szabolcs Csíki
Sandokan:  Balázs Varga
Sergiu: Barna  Bokor
Zágoni Teréz: Katalin Berekméri
Viorica: Bea Fülöp
Olimpia: Bora Kiss
Pompilia: Andrea Varga
Zágoni:  Miklós Levente Ördög
Lajos: Gábor Tollas
Margit: Ildikó P. Béres
Madam Bertha:  Annamária Biluska
Doina: Dorottya  Nagy
Madam Pop:  Orsolya Moldován
Septimiu:  László Zsolt Bartha
Béla:  Gábor Huszár
Tenant:  Ervin Ruszuly
Ottó:  Péter Kiss
Anna: Anna Kiss  
Mioara:  Borbála Sebesi
Caius: Mátyás Áron Pál
Eugenia: Sarolta Sebesi
Daciana: Virág Hunyadi
Mr. Mureşan: László Szakács
Directed by: Radu Afrim
Set Design: Irina Moscu
Choreography: Ervin Ruszuly
Sound Universe: Radu Afrim, Álmos Gáspár,  Petra Noémi Pál
Light Design: Attila Aszalos
Video Mapping: Andrei Cozlac
Video Mapping Assistant: Mihai Marian-Mina
Duration: 3 h 10 min (with intermission) 
Târgu Mureş National Theatre – "Tompa Miklós" Company