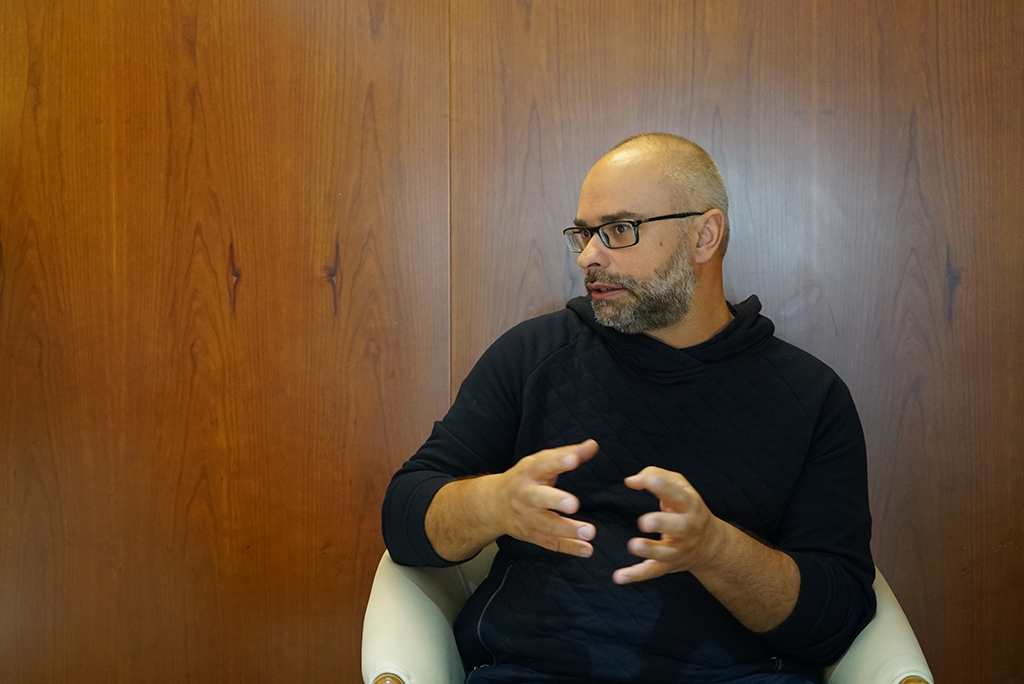 We talked to Polish theatre critic Lukasz Drewniak, one of the most powerful voices of political theatre în Poland, about the situation of the new theatre and its relationship to audiences and society, and also about what impressed him about the performances he watched at this year's Romanian National Theatre Festival.
Do you believe that "theatre changes the world", as stated by the theme of this year's Romanian NTF?
To me this means nothing. It was a sort of utopia of the past, that theatre has the power to change reality and people's minds, but it collapsed in a very dramatic way. In Poland we have a strange situation now, the right is in power. Two years ago we had an awakening one day, that we, theatre people, are not a part of the current society anymore. We felt that we don't know anything about the Polish society. We had tried for ten years to push forward the political theatre, we thought that this revolution will change Polish audiences and society (which for us were synonymous). We thought that every member of the society should go to the theatre because it is good for them, because it is the most innovative art form. Through the last decades this was true, but two years ago we woke up not knowing where we are; artist and theatres are now on a sort of a battle field. We are not only attacking politics, but we are now also attacked by the society, as the audiences do not want a new theatre, new naratives or styles of plays.
Why is that?
Polish society was always conservative. We only pretended that is was liberal. Now we are in a retreat, because last season we lost 6 stages and 4 festivals in Poland. They were lead by very progressive artistic directors, there were many festivals dedicated to the new theatre, but now after some moves of the Ministry of Culture and the local authorities, we lost these. Every young Polish artist says this is the last season of Polish theatre. Last year me and my friends wrote a lot of texts against the authorities and the conservatives, but it failed. So I think that theatre now is very weak in Poland. We actually don't know anything about the audiences nowadays. We couldn't find instruments to attract them and share with them our feelings, fears and emotions. There is a huge wall between audiences and artists in Poland.
What could change this situation for the better?
There is a lot of interest in theatre in Poland, spectators have not quit the theatres, but they want to watch classical, conservative performances, with the stars of theatre, they want to have simple stories, in order to understand everything. The young theatre complicated everything, they re-wrote Shakespeare, Moliere, Chekov, Polish classic texts, and one day the audiences said they don't want this anymore. Audiences want us to make conservative theatre, but 90% of Polish theatre makers are leftist, connected with the new progressive theatre. So what can be done now?
Could this, on the other hand, be a good challenge for Polish theatre makers?
I don't think so. I feel that now it's a long dying process of our progressive theatre, within the next decade. The next step of the authorities with be to say – ok, not enough audiences are coming to your theatre, so we will take away your institution's funding. I'm rather liberal than left, so I know that the audiences have gotten conservative as a reaction to too many experiments. In the last 10 years, our theatre was dedicated completely to experiments. The next wave is to reject them. So I can understand this, but the main body of Polish artists don't.
What are you taking with you, impressions, thoughts, after the Romanian National Theatre Festival this year?
I only saw five performances, all were rather conservative, only one was in my way of thinking of what theatre should be: "Bonfire" by Armin Petras. Petras provoked me to think about the distance and transformation of theatre. The feeling during this performance was as if there was a ball thrown towards the audience and then coming back to the actors. This ball that hit me was made of our memories, our distance watching the actresses, and their stories. One actress hit herself while playing and her knee was bleeding. This blood was the extreme element of truth in the theatre, in this story. Maybe we in Poland should as well "hurt" ourselves in order to tell the audiences that we are true, we aren't lying, we are naked, natural, in front of you. I can imagine a Polish performance, speaking about our contemporary situation, where we will show the audiences that we are really true, that we are "bleeding". If, using the strategy of political theatre în the dialogue with society, we could provoke artists to "bleed" on stage, metaphorically speaking, we might thus win a first step in our fight. Maybe. Anyway, I will try to invite this performance at our festival in Poland. Maybe this is the most powerful glimpse from the Romanian theatre that I take with.