26 October | 20:00
Bulandra Theatre, "Toma Caragiu" Hall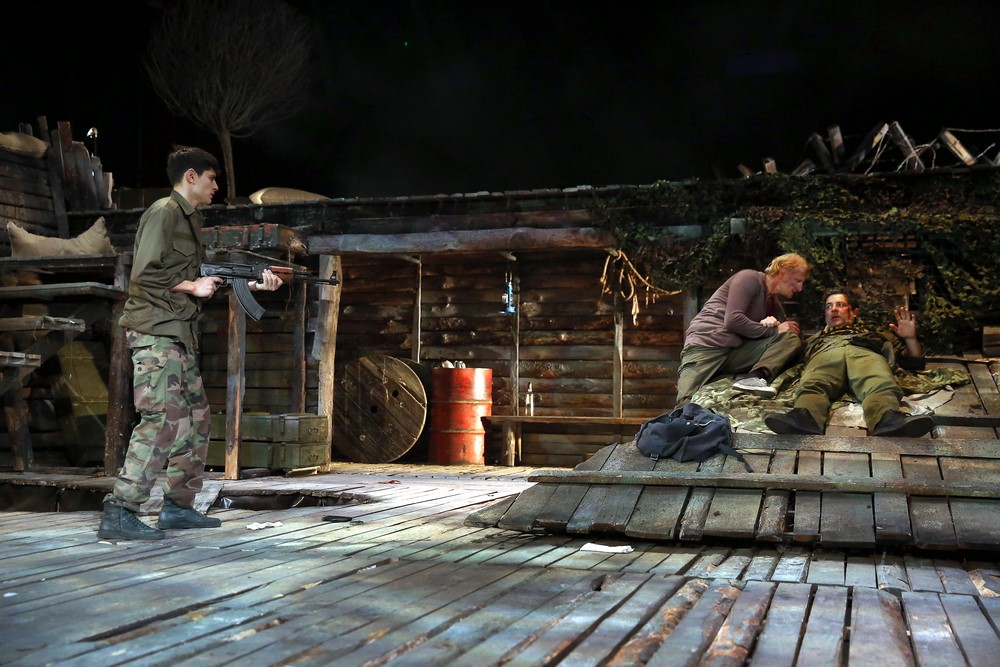 Based on a movie that won the Oscar for Best Foreign Language Film in 2001, No Man's Land is set in the midst of the wars in former Yugoslavia.
It is a bleakly funny parable with Serb and Bosnian soldiers finding themselves trapped in the same trench. During a fight, several Bosnian soldiers are killed. Ciki (a Bosnian) falls into a trench and is spared. The Serbs come to inspect the trench. Ciki hides and watches as they place one of his dead comrades onto a land mine. About to be discovered, he kills one Serb and wounds another one, the young Nino. A stalemate develops when Cera, the apparently dead Bosnian, comes back to life. If he moves, the mine explodes and they are all dead.
The French sergeant Marchand of the United Nations Protection Force (UNPROFOR) gets involved in the effort to help the three trapped soldiers, despite initial orders despite orders from the high commander. UNPROFOR's mission in former Yugoslavia was to guard the humanitarian aid convoys and to remain neutral.
But the war game eventually involves the UN commanders and a CNN news reporter -who assures that the whole world is watching. Untold thousands can die unremarked in a war, but when a situation like this develops, people are intrigued and are likely to raise the TV ratings. Will the mine explode? How long can the poor soldier lie on top of it? Will the two enemies kill one another? Although the Serb and the Bosnian debate who is right and wrong in their war, Tanović's position is that the conflict has escalated into the arena of the absurd: there is so much agony on both sides, that redress is impossible. The land mine symbolizes the tragic situation in which Yugoslavia seems to be stuck.
Translated by: Andrei Marinescu
Dramatisation: Alexander Morfov
Cast:
Cera: Mihai Călin        
Ciki: Richard Bovnoczki
Nino: Ciprian Nicula   
Rambo / General Schwartz: Marcelo-S. Cobzariu
Sergeant Marchand: Rareș Florin Stoica        
Captain Dubois: Mihai Munteniţă
Pierre, UNPROFOR soldier: Ionuț Toader
Georges, UNPROFOR soldier: Andrei Atabay
Mile, Serbian officer: Denis Hanganu
/ Bosko, Serbian soldier: Vitalie Bichir
Celo, Bosnian officer: Eduard Adam
Emir, Bosnian soldier: Mădălin Mandin
Mirza, Bosnian soldier: Adrian Iosif Pop
Sergeant Müller, a sapper: George Piștereanu
Jane Livingstone, CNN reporter: Alexandra Sălceanu / Aylin Cadîr
Martha: Fulvia Folosea
Soldiers / Reporters: Nicolae Dumitru, Ionuț Niculae, Aurel Ungureanu, Silviu Negulete            
Directed by: Alexander Morfov
Sets: Nikola Toromanov
Costumes: Andrada Chiriac
Stage combat: Attila Nemeș
Original Soundtrack: Alexander Morfov
Light Design: Chris Jaeger
Duration: 2 h (no intermission) 
 "I. L. Caragiale" National Theatre, Bucharest